CBN News - How ESS Impacts Culture on Campus,
then the Workplace

The Harvest is Truly Plentiful...But the Laborers have been Too Few.
Want more Kingdom-prepared college grads in your city?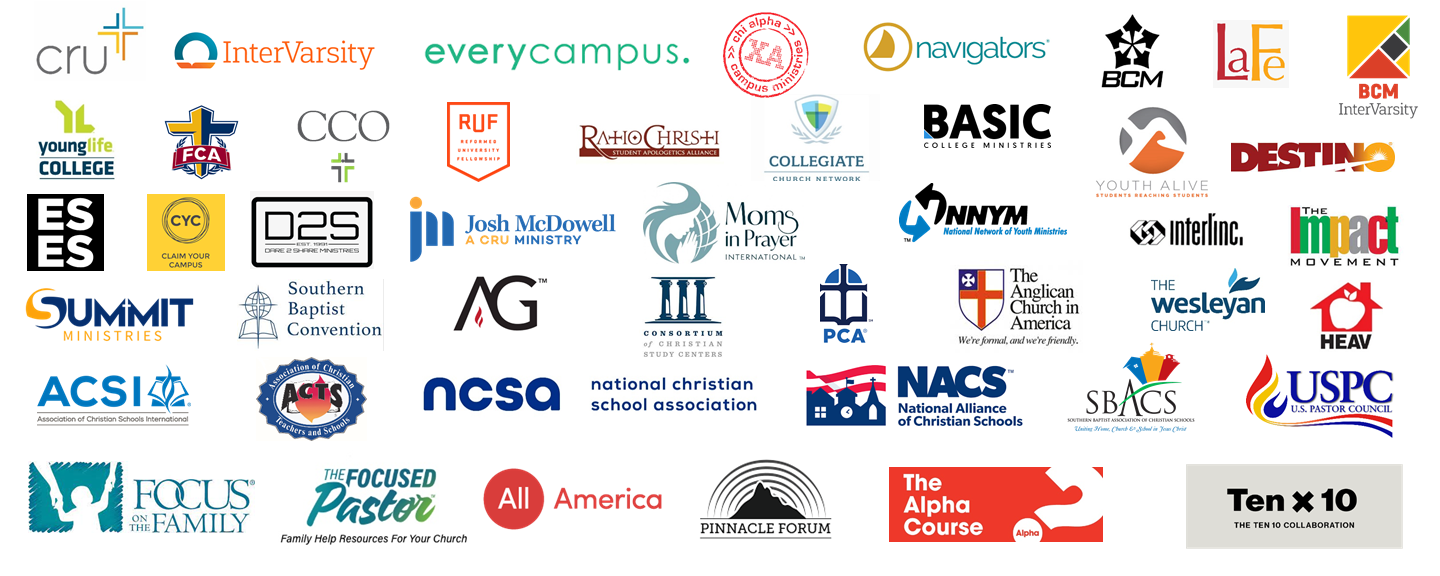 The Every Student Sent Coalition
Every single year

roughly 70% of youth group grads fall away from the faith because of what happens during the

first days on campus

. We lose the potential they have to transform universities and the marketplace.
But now, churches are reversing this

by connecting students to miniseries, churches and other incoming Christian friends many months before college, and it's being scaled nationally.
A broad coalition of national Ministries and churches are part of this movement to help every student be prepared to know their career purpose and multiply disciples in ESS groups for their Academic Department and Dorms.

They learn to change culture on the campus then the workplace

. Now we are building a transition to the marketplace and engaging with every Marketplace Ministry since studies indicate that 35% to 59% don't find fellowship in their new city.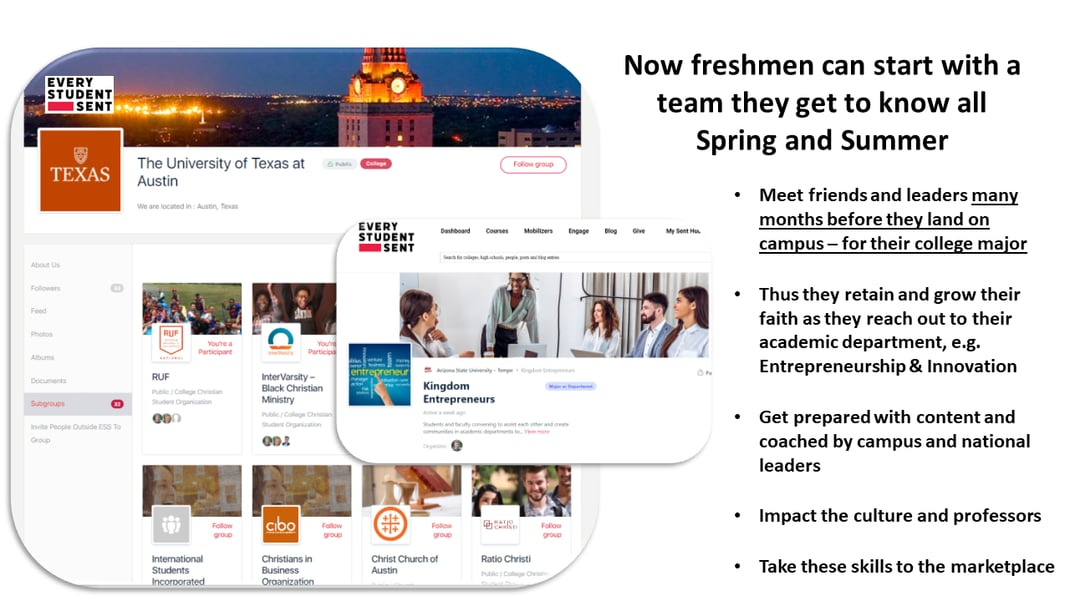 Learn how you can help impact the Marketplace in Your city. Reach out to John Decker on LinkedIn or via the email form at the bottom
The Career Arc from HS to College to the Workplace
Barna Report - Career Discipleship
Barna believes this emphasis on careers presents an opportunity for the church to engage in what could be called "vocational discipleship". The church has an opportunity to reach this next generation of teenagers through integrating career, and calling into their discipleship efforts.
Helping students find life purpose, careers, and college majors with a faith & work outlook.
Establishing missional communities around academic departments to be ready for the workplace
The components of this are:
Selection of Major in High School - Understand who you were made to be, and all the possibilities which could fit. This is also viewed in the context of the 7 Spheres of cultural Influence as outlined by Bill Bright, founder of Cru. Resources including Career Direct are employed as well as helping avoid the

Student Debt Crisis

.
Join University Missional Communities for academic departments - Communities are being organized starting with national web training, then planted at universities, and growing to include most academic disciplines. Initial communities will be

Entrepreneurial Studies, Communication/Media, and Education

because of their impact on society. We are looking for your content and advisors to assist. See an example from Pinnacle Forum. Please contact us to learn more.
Prepare for transition - Various resources are being created or affiliated with such as Baton Exchange
Transition into the Marketplace - Connections with marketplace ministries affiliated with the ESS network are being created including a Christian service similar to Indeed for internships and jobs. Right now over a third of Christian college grads don't find community and fall away. Please contact us if you would like your ministry be included.
Engaging with your Marketplace ministry - We would love to discuss ways that you could provide your content and people who would like to coach students locally or nationally, and ways we can help your ministry by sending you college grads in cities where you operate.
See how Every Student Sent Helps
Ways you can help your city:
Introduce
John Decker (john.decker@everystudentsent.org) to:
Pastors & Youth Leaders

Leaders in your marketplace ministry

High Schools and Homeschools

Ministries, Foundations, Media (Advance ESS)

Business Leaders with passion for youth.

Retirees who could volunteer (See

IRetire4Him

)
Volunteer
See Volunteer Page. Contact John Decker for info.
Mentor students re: faith or career
Provide content/training for student groups
Marketing, communication or IT expertise
Ministry expertise for: Students/Pastors/Parents
Organize a City Movement
Public speaking or recording content
Next Steps?
In 2023 we are launching various city-wide movements across the nation as well as a national saturation plan to to make it normal for no student to start college alone. We can talk with you about strategies for your city or your ministry
Review Accelerating Every Student Sent to see the Natural Saturation Ministry Plan and ways you can financially change the lives of thousands of students so that the class of '23 is the most successful in history. Other recommendations are below.

Reach out to John Decker

at below or connect with him on LinkedIn.
Take the next step to learn more:
Arrange a phone or Zoom call with John Decker, Director of Strategic Partnerships: