The national movement so no student starts college alone but with a team of missional friends and leaders. The result: the 70% College faith drop-off has been reversed and freshmen reach freshmen for Christ. It's time to reverse the loss nationwide and empower students to reach their campus and our cities!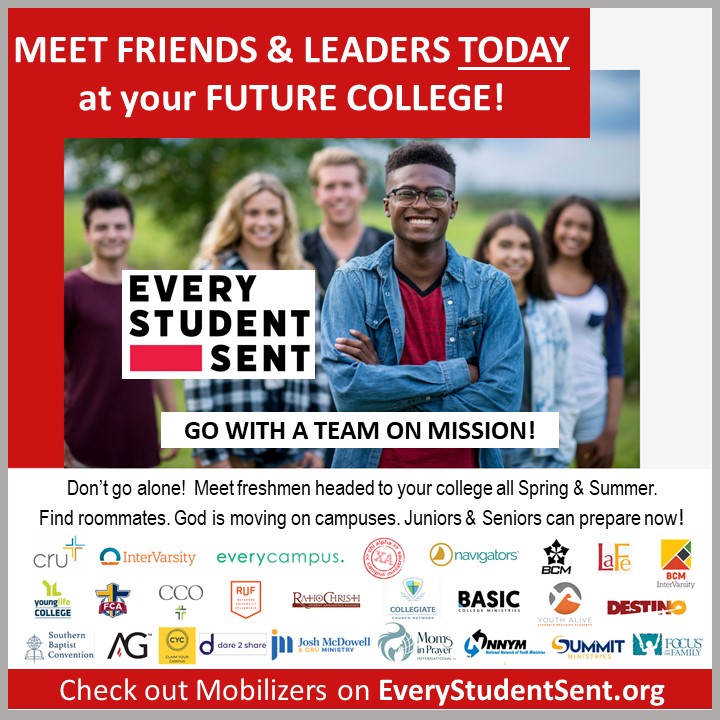 Working together to Triple Kingdom focused College Grads into the Workplace


Every Student Sent is aa national platform and coalition of major college ministries, denominations and schools to successfully transition from High School to College to the Workplace. Pinnacle Forum partners are becoming an example of how business ministries can engage. This has been shown to reverse the 70% college drop-off, and and create Freshmen Gospel movements when new pre-Christian students are more open than any time in their lives. When scaled nationally this will double active freshmen believers, and help them multiply disciples so that triple the number of world changers will graduate 4 years later. A bridge from college to the workplace is now being created. See how churches are benefitting today..
After Bill Bright was shown how culture is divided into seven spheres of influence, he challenged Merrill Oster (see podcast) to raise up 30,000 cultural influencers, and Pinnacle Forum was born. See how the "Bridge" discussed in the Education forum connects high school to college to Baton Exchange to YSL to PFA to help make this happen.
Join Every Student Sent Group

Testimonies from Pinnacle Forum Partners:
I introduced a Pinnacle Forum partner to Every Student Sent. He got his granddaughter on the site this Spring for her future college and she met three Christian students in a group right away headed to her campus and became friends. He said "my granddaughter is one of the most introverted people I've ever met, and I've never heard her talk more with these three people than ever before." She's going to go to that campus with these friends who've already connected. He cannot be more pleased with what's going on in her life because of Every Student Sent. ~ Jeff Andersen
My daughter is a Young Life leader and we've gotten really involved with this rowdy group of kids on the fringe. She was the real first presenter of the Gospel to them. When we got together a couple of weeks ago I got to chat about what's next for them with a year left of high school. They have no one to help them get ready and no where to land. I got overwhelmed with the joy I saw when I showed Every Student Sent to them. They lit up, and felt like someone was looking out for them in particular. That meant a lot to me! - John Willoughby
Students in Community long before College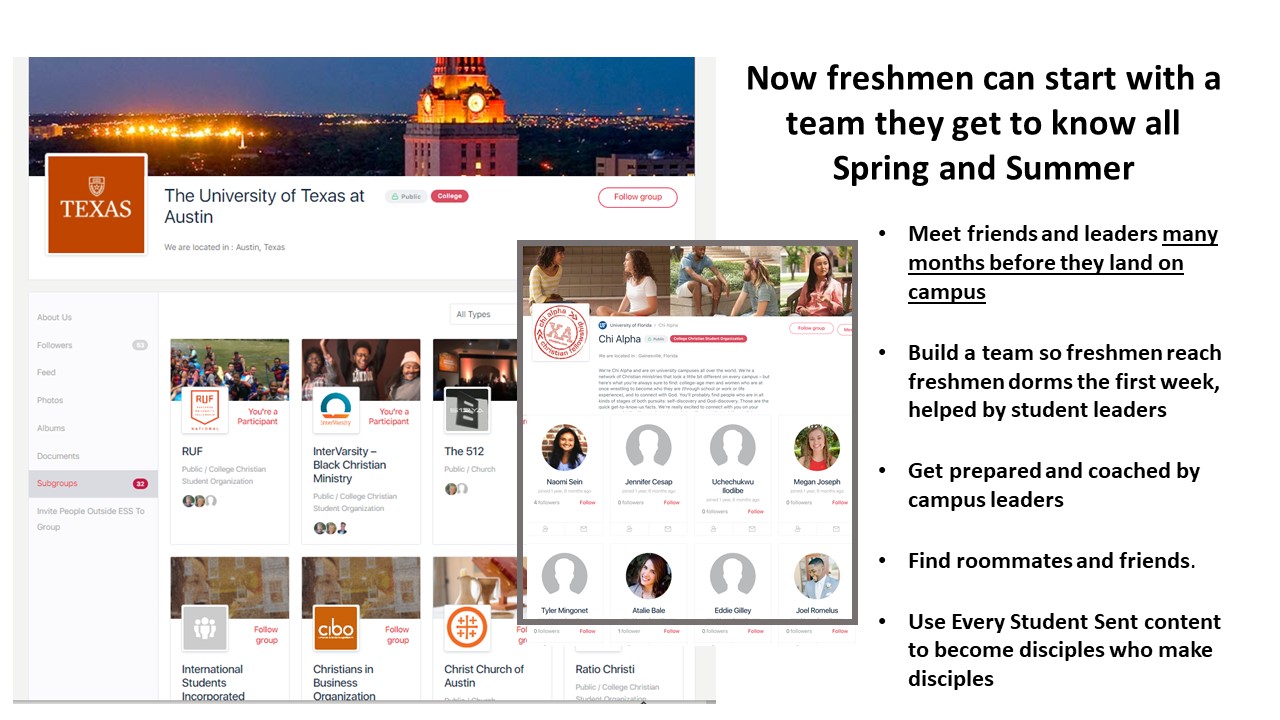 Ways Every Student Sent can help PFA partners &
Ways partners can impact the movement.
EveryStudentSent.org can help your family assure that your kids and grandkids thrive in their faith in college. This can be the same for your church, Christian school, or homeschool association! Simply log on to check it out and share the good news!
Below are ways Pinnacle Forum Partners can play a meaningful part of this revolution in education and workplace impact. You can do this for your city or nationally. Summer 2022 has a special focus on Phoenix & San Diego. See Phoenix & Cities block below.
Introduce
John Decker (john.decker@everystudentsent.org) to:
Pastors & Youth Leaders
Other PFA partners in your Forum etc.
High Schools and Homeschools
Ministries, Foundations, Media
Business Leaders with passion for youth.
Retirees who could volunteer (See IRetire4Him)
Volunteer
See Volunteer Page. Contact John Decker for info.
Mentor students re: faith or career
Provide 7M content/training for students
Marketing, communication or IT expertise
Ministry expertise for: Students/Pastors/Parents
Organize a City Movement
Public speaking or recording content
See how this impacts the Cultural Mountains through
Take the next step to learn more:
Arrange a phone or Zoom call with John Decker 315-480-1232
john.decker@EveryStudentSent.org
View the Summer 2022 Mobilization Plan
Join Every Student Sent Group


Preparation & Connection
Develop a vision for mission on campus with a team.
Connect a year in advance
Guide selection of a major with God's purpose and sphere impact
Impact & Calling Development
Experience sharing the Gospel & Freshmen movements
Influence your department
Refine Career direction
Prepare to transition
Transition to the Workplace
Community and mission in the workplace
Mentoring
Church that understands work as mission.
The Harvest is truly plentiful, but the workers are few. It's time to stop losing our future leaders and instead, empower them to impact the most strategic field in America - our College Campuses, then fill the seven mountains of the workplace.
The Good News: Every Student Sent has proven that when you prepare and connect students to college faith communities long before they start college, the 70% college faith drop-off disappears, and freshmen Gospel movements are sparked. Dorm revivals have happened as freshmen reach freshmen when new students are the most open in their lives. Students are trained to impact the culture of their academic departments, so they are ready for the workplace. Pinnacle Forum partners are helping spread the word and add the bridge from college to the workplace.
You can help spread the movement. Every Student Sent is now on nearly every US campus. Denominations, Christian schools, and similar partners are spreading the word to reach the high school class of 2022. You can share EveryStudentSent.org in your city and your network as well as engage with this Mobilization Plan. More detail on how PFA partners can engage is further below.