Don't send teens to college alone, but on mission with a team of friends and leaders they meet up to a year in advance.

Every Student Sent is a national movement and a free community-based platform to prepare every 10-12th grade student for college along with our partners, then connect them with a missional team of ministry leaders, pastors, and other freshmen headed to the same college as much as a year in advance. They can find roommates and missional friends to reach other incoming freshmen s during the first weeks when they are especially open. The goal of this coalition is to reverse the 70% drop-off, double freshmen believers, in order to triple the number of culture changers who will graduate after 4 years. The harvest is plentiful, but the workers have been too few. It's time to empower them to impact our universities, workplaces, and cities!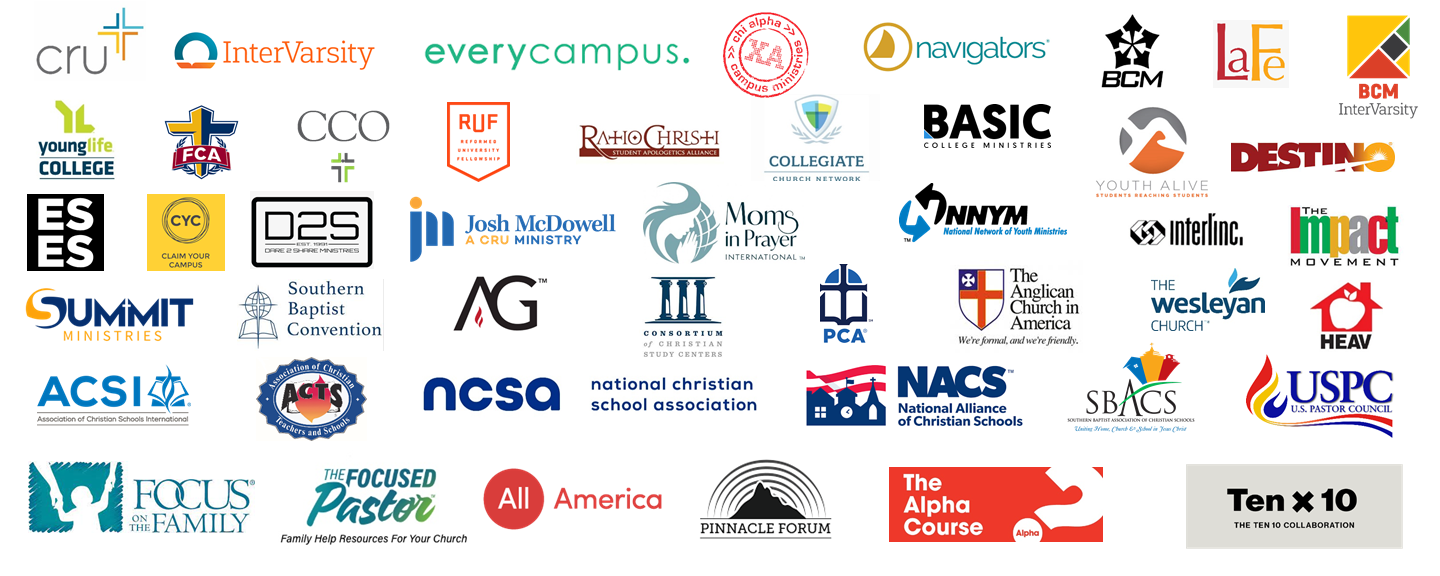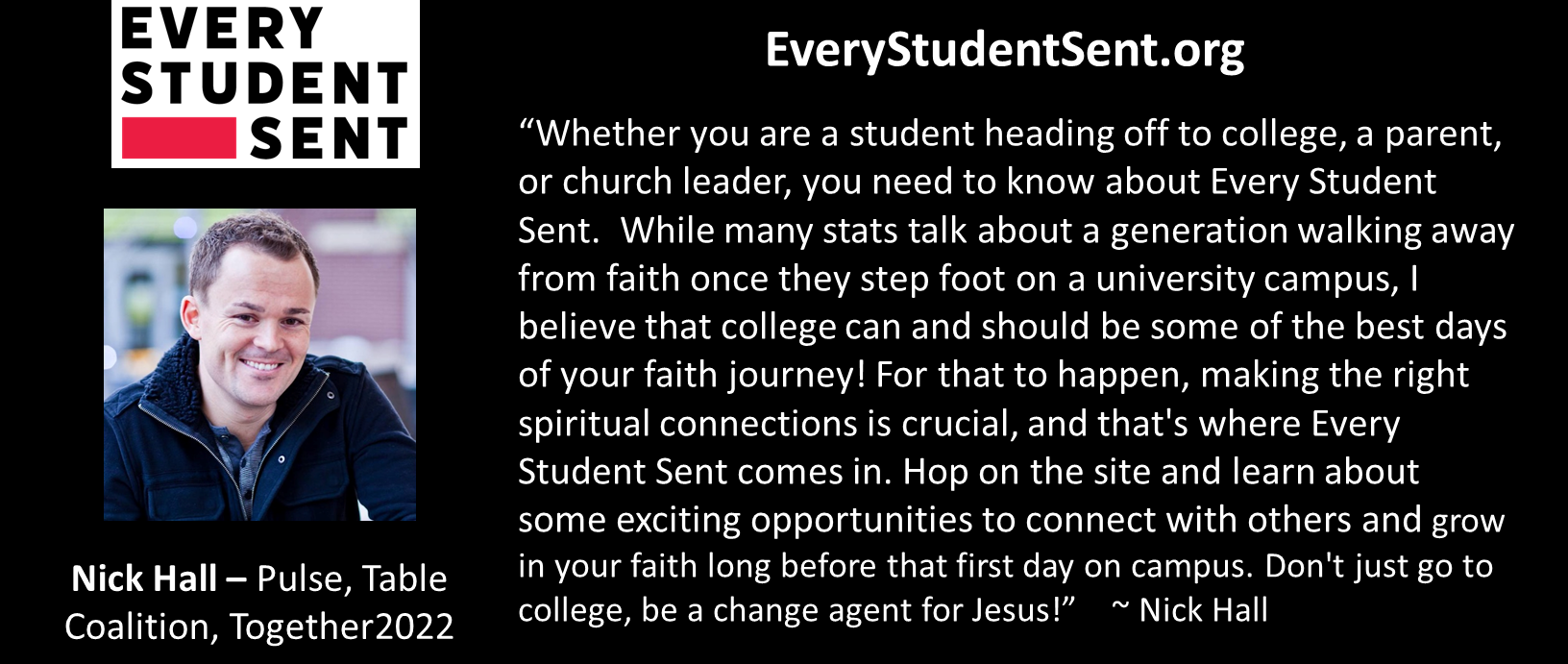 Register now for TOGETHER'22 at the Cotton Bowl June 24-25 - Free
Josh McDowell
- Josh McDowell Ministry
"When Christian college freshmen are alone, their faith rarely survives in today's college environment. The good news is that when they're connected in advance to campus ministries, churches, and Christian friends, they not only survive, but thrive and impact their classmates. Every Student Sent will help parents, churches, and ministries to turn the tide so this generation can now become the leaders of tomorrow." See Josh's recent call to action and the importance of the first 72 hours on campus.
York Moore
- InterVarsity & Every Campus
I believe that a way God is going to move in power in these coming days is with incoming freshmen. Waiting for students to be found by campus ministries is the old way. We now have an opportunity with Every Student Sent to connect with incoming freshmen before they land on campus. I encourage your college students to share this with their home churches so we don't have any students left behind. (Video banner: ESS was previously called Campus Ministry Link)
See how Every Student Sent specifically helps: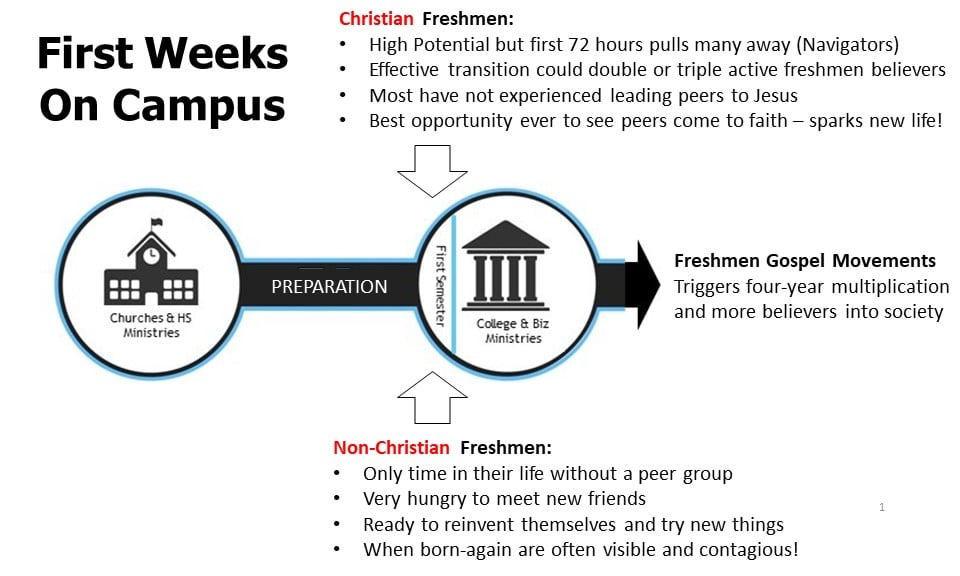 .Ronnie Floyd - Southern Baptist Conv
Gateway Church - Craig Terndrup
Multiplying youth & college grad disciples in DFW
Every Student Sent is a national movement, launched by Austin-based Campus Renewal. What can our cities look like if we reverse the 70% college faith drop-off, double active Christian freshmen, multiply over 4 years, and graduate triple the number world changing college graduates ready to change culture in their sphere!
The DFW 2022 goals:
Connect every high school student

to college ministries/churches across the nation
Catalyze freshmen to freshmen awakenings at area universities and community colleges
Create maturing and multiplying disciples via connections and content from ESS and national ministries.

This reverses

the 70% faith drop-off and empowers students to reach their friends
Help every student find their calling, major and career - to impact society locally and nationally
Kevin Palau on ESS City Movements
Yasmin Pierce
- Circuit Riders/YWAM
Every Student Sent is an incredible platform we need at this time. The beginning of the year is such a key time for students to get connected. New (pre-Christian) students are trying determine what life is all about and it's a time of ripe harvest. With ESS, you can connect with other believers and get resourced with biblical material. We're going to see the church grow and non-believers come into faith. Let you friends know.
City-wide movements understand that the harvest is plentiful, but they need more laborers. Every Student Sent can reverse the 70% loss and multiply laborers to transform culture - as it becomes normal for all students to prepare and connect. The strategic benefit of equipped freshmen reaching freshmen during the first month "Sweet Spot" when non-believers are especially open is key. See Kevin Palau in this video (recorded with our prior Campus Ministry Link information)
Every Student Sent is also a Social Network
With a look and feel like Facebook, Every Student Sent is also it's own national and local social network for high school and college students as well as church, ministry, school, and business leaders to collaborate and advance discipleship together. You can create your own affinity groups. Log on today and learn how. www.EveryStudentSent.org.