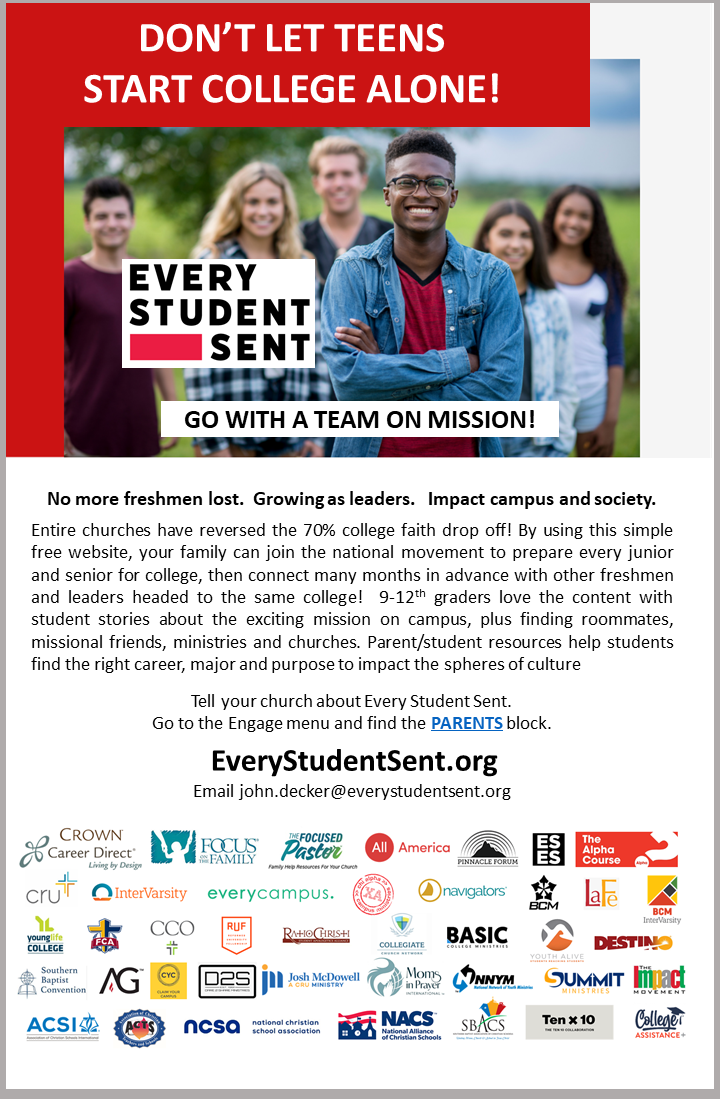 Share the good news. Paste this into your social media today!
Log in for free as a parent today onto EveryStudentSent.org for full access.
Now students don't have to start college alone, but can go with a team of other incoming Christian friends and leaders, and roommates at their future college they get to know many months before they land on campus! This has been proven to reverse the 70% faith drop-off, and catalyze growth. 10-12th grade students can prepare for exciting mission together with parents.

The Three Pillars of College Success
(CLICK IMAGES)
College Fellowship
With the right friends, mentors, and missional mindset, students can finish college as leaders & resilient disciples who make disciples.
Career & Calling
Students who select a major grounded by a vision of how God made them and understand marketable fields are best prepared
To network with other parents and learn about events and resources. Here's Julie Loos from Moms in Prayer to tell you more about it and ESS!
Helping you with your students
Check back often for a growing suite of Parenting Resources.
Now students can connect a year or more in advance with an online group of campus leaders and Christian friends headed to the same university, develop friendships, study partners, and team up to reach other new freshmen with the love of Jesus. (They are more open and available than any time in their lives).
The first 72 hours on campus. A Navigators study revealed that the friends a student makes in his or her dorm during this time, often dictates their faith trajectory through college....and life! We have found that connecting in advance reverses the typical 70% college faith drop off. This drop off even includes students with a strong desire to continue their faith. See this call to action by Josh McDowell.
Parents in churches using Every Student Sent have seen the 70% faith drop-off nearly disappear, and replaced by engaged students with excitement about multiplying.
Juniors get time to select the right college, connect with ministries, and use training resources which empowers them with an exciting vision of mission and gives your student ownership of the process.
Homeschool Families - See resources here.
Just log on to EveryStudentSent.org here - it's Free!
Ways to help other families, your pastor, & community:
We're here to talk!
Contact us to answer questions or set up a phone or Zoom discussion to go over your family college prep questions, or to help your church or community accelerate this movement. Just reach out to us:
LATEST NEWS:
You can now follow

the

Parents Group to network with other parents, find resources, and participate in monthly Zoom meetings with national family leaders

If you missed the Mobilized for Mission Event

- the powerful content for teens and parents is broken into 7-minute topics in Courses

Every Student Sent is a unique community-based platform for preparing 10-12th grade students with a vision of connecting to college ministries, churches, and each other in order to propel them towards Gospel-centered mission as they navigate and engage culture during college. It's a national movement of major college ministries, youth ministries, denominations, Christian schools, and homeschool groups to connect and prepare teens for future leadership. When you register on this free platform you get full access to the features and resources including the embedded social groups. This Family page of www.EveryStudentSent.org is a jumping off spot to orient you to the features and resources.

Resources you can use
Make use of these Every Student Sent (ESS) resources along with social groups where you can hear from other parents:
Check back often since new resources are added each month.
Growth and discipleship
Finding Career, Calling, and Major
Minimizing College Debt
College Assistance Plus - See videos, education, and services
Parent's College Planning Group - find resources and connect with other parents
Christian Financial Advisors

-

It's great to have an advisor who understands your values and goals. If you don't already have an advisor who is a believer, you can enter your zip code and see a link of Kingdom Advisors near you. You can review their websites and reach out to any of interest. There is no affiliation with Every Student Sent. If your advisor does not know about ESS, we'd be glad to educate them!
Testimonies for students to watch - Interact with the Student Stories & Videos group, view student testimonies, and have your teens share Every Student Sent with their friends. Their faith grows every time they interact with the Gospel.