Copy/paste this image for your social media or church bulletin board.
Grandparents: See special resources for you at the bottom of this page.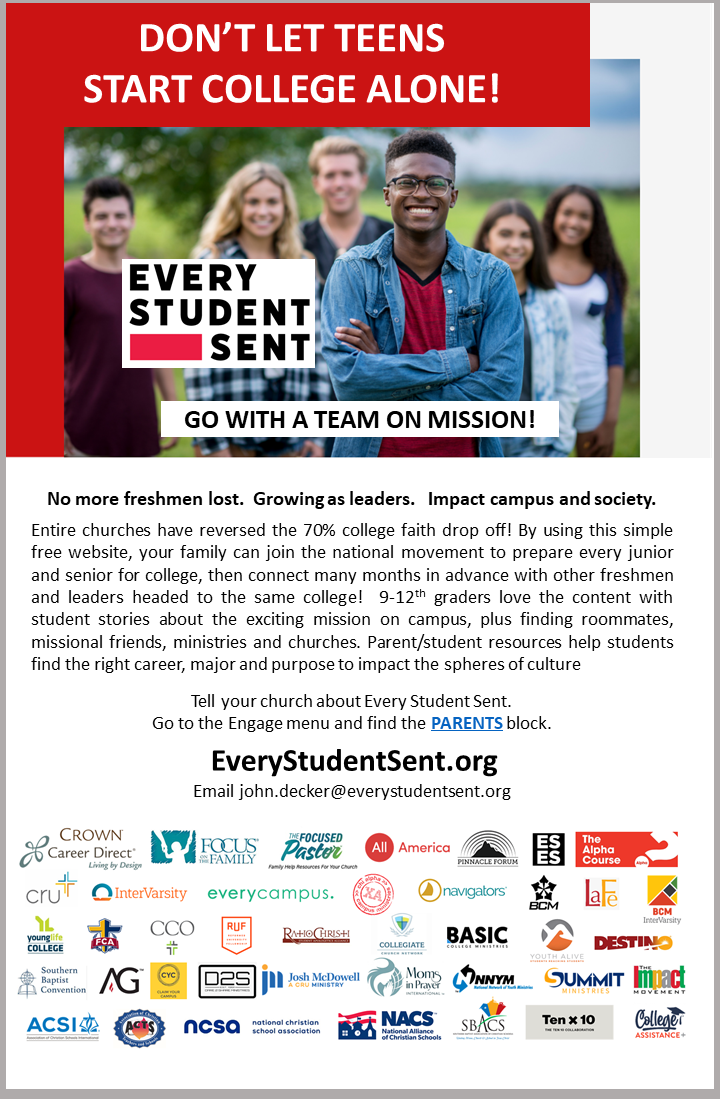 As a parent, you can succeed in helping your teens be excited about following Jesus with a team on mission. You can help them pick the right college, right major, purpose and career, and help them get to know leaders, new friends, roommates, and study partners in their major, all excited about growing the Kingdom. You can also help them carry their mission forward into their professions.
We are here to help.
Just email us at the bottom of this page.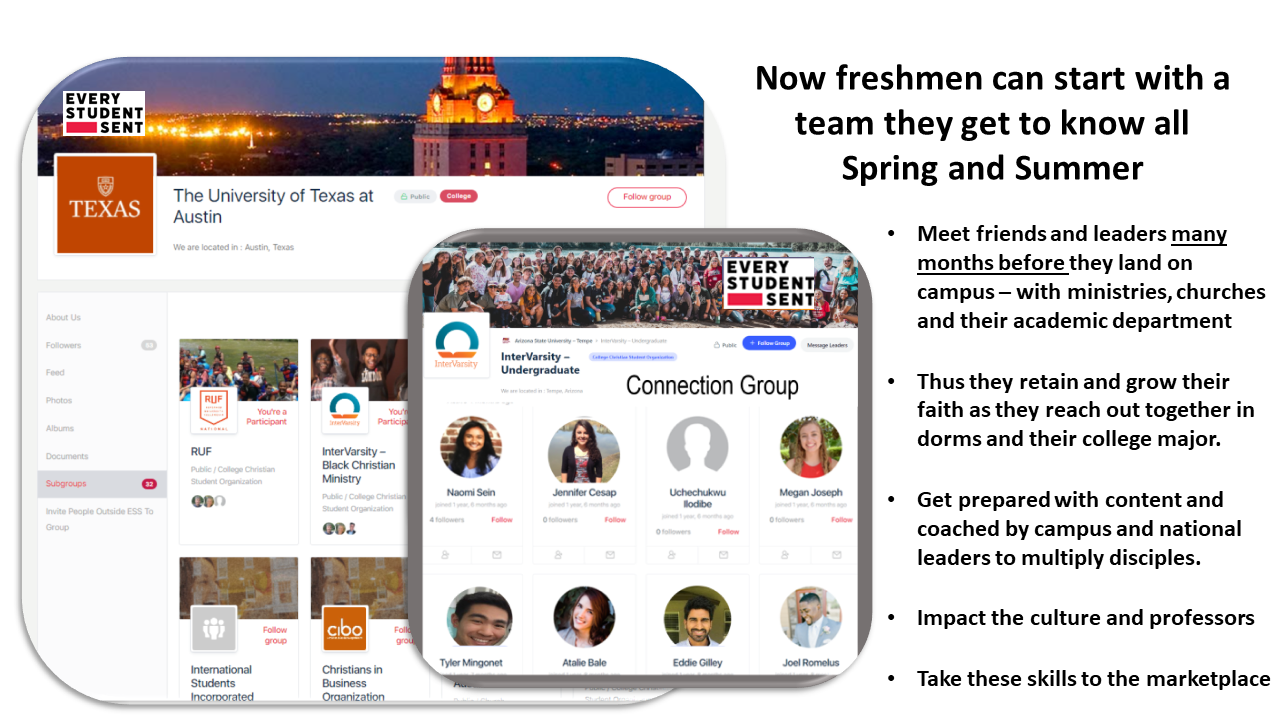 The Three Pillars of College Success
(CLICK IMAGES)
College Fellowship
With the right friends, mentors, and missional mindset, students can finish college as leaders & resilient disciples who make disciples.
Career & Calling
Students who select a major grounded by a vision of how God made them and understand marketable fields are best prepared
Now students don't have to start college alone, but can go with a team of other incoming Christian friends and leaders, and roommates at their future college they get to know many months before they land on campus! This has been proven to reverse the 70% faith drop-off, and catalyze growth. 10-12th grade students can prepare for exciting mission together with parents.

How ESS Helps Parents
Receive hope and learn strategies from this podcast with Stacy Callender from Moms in Prayer and John Decker, Director of Partnerships for Every Student Sent
To network with other parents and learn about events and resources. Here's Julie Loos from Moms in Prayer to tell you more about it and ESS!
Talking with your Kids about Money
Your kids will soon be on their own and learning how to manage and think about money, generosity,, and the future. We are launching a student discussion place about this along with content from Compass, Crown Financial Ministries, the Ron Blue Institute and AXIS. See the first video this series:

Other Steps you can Take:
Tell your students about this, and check out college ministries together with them as part of your college search process. Share the Student Page. Encourage them to virtually join some ministry groups and ask leaders questions.
Review content with them, like the Thrive in

Courses

or

Worldview

about college as an exciting mission.

Learn from the Career Page, and the College Cost page.
Tell your pastor and friends about Every Student Sent!

Follow

these new parent groups: ESS Parents Group | College Planning Collaboration | Homeschool Collaboration

Volunteer

to share ESS with other parents in church or help your youth leader. See Ambassadors
Support Every Student Sent - Learn how the Every Student Sent movement is changing communities
QUESTIONS?:

Email us at the form at the bottom of this page.

Grandparents:
In addition to Parent
resources, here's some special content for you:
Log onto EveryStudentSent.org today, and also set your profile type as "Parent" for full access.
Follow the ESS Parents Group and collaborate with other parents and grandparents. Your wisdom is needed for this generation!
We're here to talk!
Contact us to answer questions or set up a phone or Zoom discussion to discuss your family or help spread the news to your church, school, homeschool and community.
More Resources you can use with your kids
Make use of these Every Student Sent (ESS) resources along with social groups where you can hear from other parents:
Check back often since new resources are added each month.
Growth and discipleship
Finding Career, Calling, and Major
Minimizing College Debt