Pinnacle is a great example of how business ministries can engage. See City Movements for more.

National impact
See how creating and connecting high school disciples to college ministries and churches multiplies Kingdom-minded college graduates into seven spheres of culture in the market transforms our nation.
National Impact on 7 Mountains

The harvest is plentiful in each of our cities, but the laborers have been too few. Learn how you can get the word out in your community so the 70% college faith drop-off is reversed, students multiply on campus, and many more Kingdom-minded college grads are ready to impact the "7 Mountains of Culture". It's happening already. Parents and pastors are now seeing their students continue in the faith - and with a new vigor and passion for helping their friends know Christ.

Pinnacle Forum is helping ESS build the bridge from college to the marketplace, so that all students know their calling into their sphere of influence. Business ministries like Pinnacle help men and women graduate from college into Kingdom-focused fellowship.

Student Video - Every Student Sent is a national movement and a free and unique community-based platform with vision of connecting high school students to existing ministries, churches, and each other in order to propel them towards Gospel-centered mission as they navigate and engage culture during college.
How to Help your Community
Each of the 7 Spheres needs more qualified laborers. This is especially true in Education, Business, and City Movements in your metro area. More detail is on the red links. .
Join the Pinnacle

Education Lounge

,

City Movements

, or

Business Group

- Contact Doug Hunter

Share

Every Student Sent with your Church.

Introduce us to the pastor.

Introduce us to Leader

s in your City for a City Movement

Register

on www.EveryStudentSent.org and join the

Pinnacle Forum Group

Introduce us to foundations who have a heart for your city.

Join

the Every Student Sent LinkedIn Group
Contact us to get acquainted.
Arrange a phone or Zoom call with John Decker
315-480-1232 john.decker@CampusRenewal.org
Join Every Student Sent Group

Former Pinnacle President, Guy Rodgers: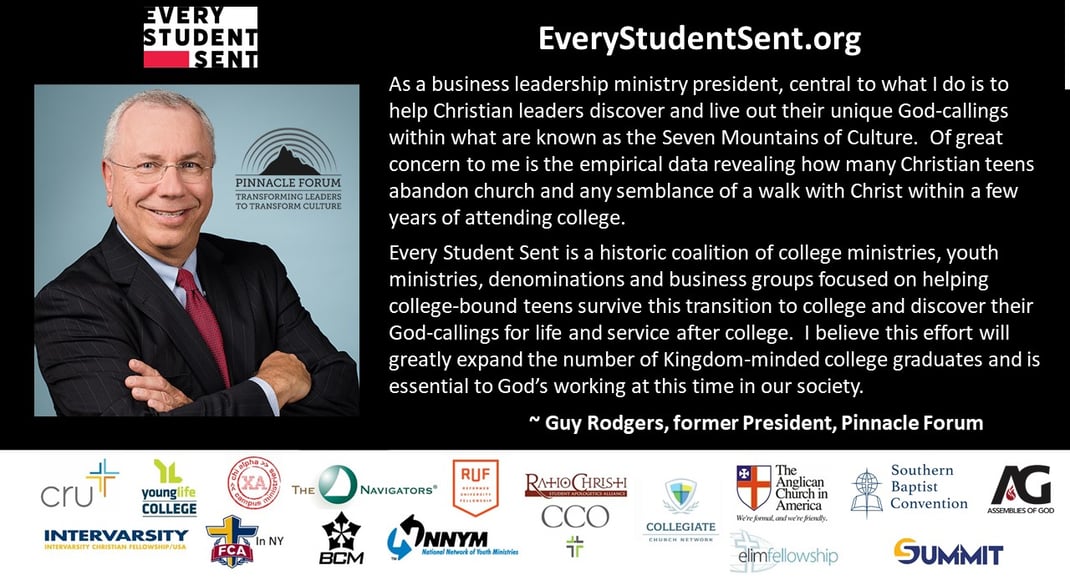 Open Platform and Social Network
Every Student Sent is an open platform for believers and has it's own built-in social network. People and organizations can implement groups for collaboration and education, which you can see once you are logged in. It is anticipated that the relationships and connections developed here will persist through college and into their transition to the workplace. A Christian resume service is also planned to help Christian employers.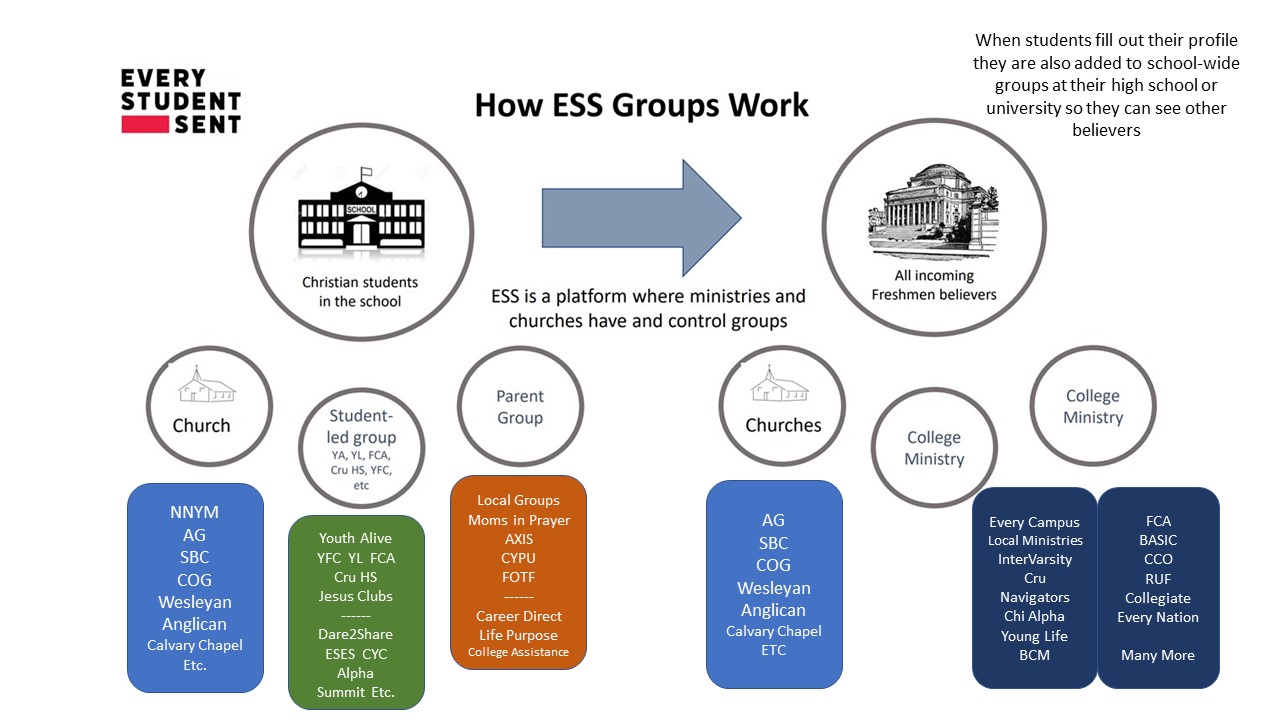 Practical Resources for Success in Life
Minimizing College Debt
Click to see initial content on minimizing student debt from College Assistance Plus. More content is being provided by other recognized national ministries.
Career & Major
Click to see initial content on Calling, Career, & Major from Crown Financial Career Direct. More content is being provided by other recognized national ministries.
To learn more or arrange an introductory Zoom call contact:
John Decker at john.decker@campusrenewal.org or 315-480-1232