NEXT STEPS FOR SENT 2021 ATTENDEES
AND OTHERS WHO WANT TO MOBILIZE THEIR COMMUNITY
1. Follow/join the College Leaders Collaboration group to network with leaders, find resources, and participate in monthly Zoom meetings with national collegiate ministry leaders.
2. Follow the steps on this page
Freshmen Gospel Movements - Fall 2021
Every student connected with ministries and prepared in advance!
Steps for College Ministries - Summer 2021
Log on with your ministry email. Use "Forgot Password" if needed. Find your ministry on your campus. If you are shown as the "organizer" you can adjust anything with the Manage feature. If you are not an Organizer, "Follow" the group and request the Organizer to promote you to Co-Organizer.
Add more Leaders - You can invite any number people and student leaders to your ESS Group team. They will receive an email message when inquiring students are reaching out and see them in the system. Warmly welcome students all year long. You can update your group to add more information.
Prepare and disciple incoming high school seniors, and encourage friendships in the ESS group so to that a community of students is ready to hit the ground running and invite other freshmen believers and non-believers to your ministry. Use the discipling resources on ESS like the Thrive course.
Read "How you can increase the Wave of Freshmen, below.

Every Student Sent is designed to make college ministries more effective by connecting you with incoming students you can start discipling long before they land on campus. This gives you a team you can have already prepared to reach out to other freshmen non-believers and Christians from the first days on campus. If you are interested in planting a new ministry on campus, ESS partners with with Every Campus to help you attract new students. See below for more.

Every Student Sent is a national movement and a free and unique community-based platform with vision of connecting high school students to existing ministries, churches, and each other in order to propel them towards Gospel-centered mission as they navigate and engage culture during college. See www.EveryStudentSent.org.
Freshmen Gospel Movements
A Navigators study showed that the friends a student bonds with during the first 72 hours on campus, often dictate the circle of friends they will stay with and associated faith outcomes. This applies to believers --- and non-believers who are more open to new ideas and new friends than any time in their lives. Connecting in advance is essential. What will it look like in America when it's normal for all high school seniors to connect with ministry ESS social groups while in high school and over summer, to that ministries can develop a team of disciples to reach non-believing freshmen. See this recent encouragement from Josh McDowell.
Benefits to College Ministries
Attract and meet incoming freshmen long before they land on campus.
The ESS Social Group for incoming Students allow you to build and a disciple a team a year to many months in advance, ready to reach their new dorm friends during the first days on campus, when non-believers are still without a new peer group, open to new things and looking for friends. These groups already exist for any ministry on the site. When students select a university, they are also added to a University Group where you can interact with them.
Disciple and Prepare incoming students - using content on this open platform such as the Thrive Course,

preparing students with a missional mindset

.. More is being added, and you can add your own content to this open platform. This has added benefits during COVID. Zoom is already integrated into your existing groups and those you create.
Ongoing content helps your ministry all year - Find a growing set of content for evangelism, discipleship, worldview, apologetics, and practical tools for students to find their career and calling. You can also form missional ESS groups around college majors, interests, sports etc..
Planting on new campuses or in new corners? ESS groups will help you gather existing students

AND

attract incoming freshmen as they search the site for your university.
Frees you from spending all your time looking for new freshmen. See how York Moore describes this time as you and incoming freshmen you've organized over the summer, can concentrate on bringing their new dorm friends to Christ. Now you can focus on helping new believers reach their non-believing friends in a true discipling and multiplication movement.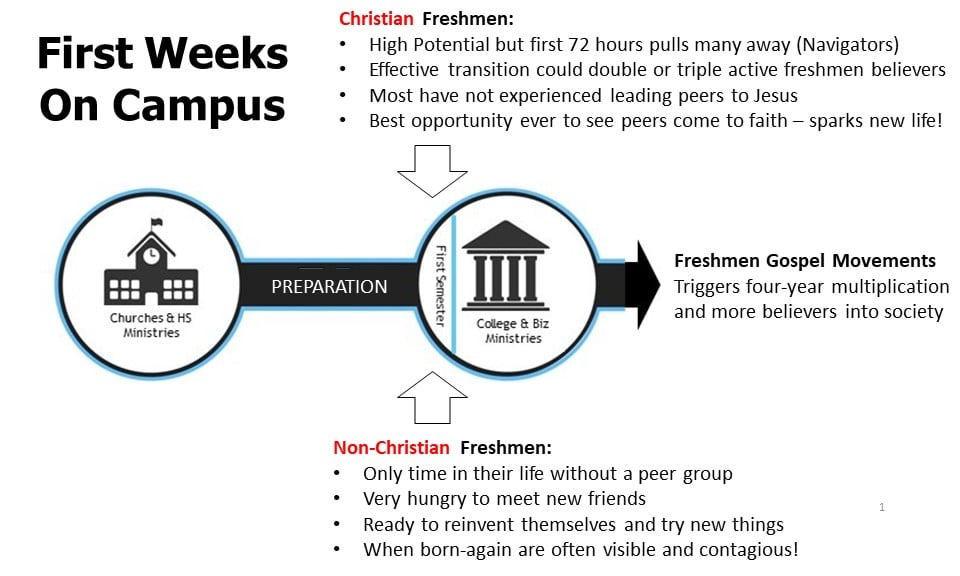 The power of the first weeks on campus. Yasmin Pierce from the Circuit Riders and emcee for the Every Campus Back to School event, shares how being prepared in community before college is a key to growing strong and reaching new freshmen in their hour of need.
How you can increase the Wave of 2021 Freshmen
Every Student Sent is mobilizing churches, denominations, Christian school, and homeschool associations to send you incoming freshmen. Here are some ways you can massively accelerate this so that colleges are saturated with incoming believers ready to engage students:
Mobilize your students invite their home church and high schools into ESS. This will expand the Kingdom, and get them into the mindset of receiving incoming freshmen. They can send the above ESS Church Page.

Invite churches near campus

to be on ESS so incoming students find them. Send this ESS Church Page.
Invite all area churches to use ESS. This will add more local students to your movement and help students everywhere. Serving them will open up partnership and support opportunities for you. See City-Wide Movements

.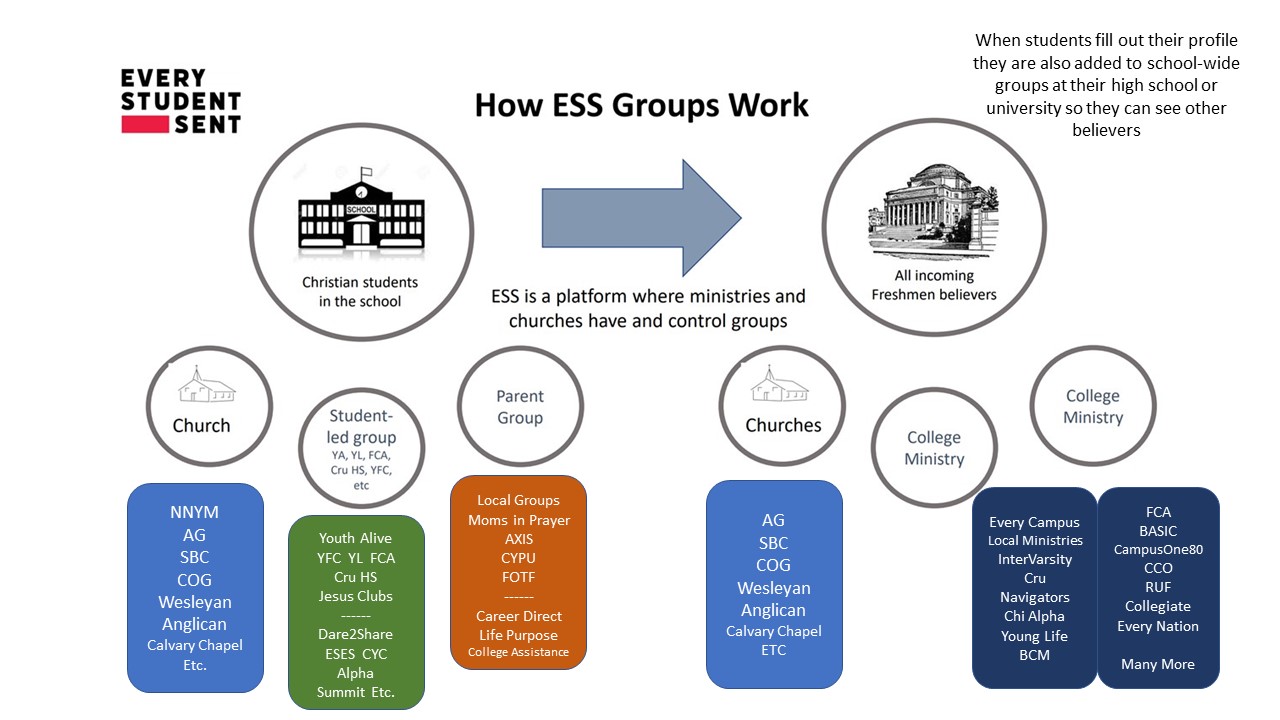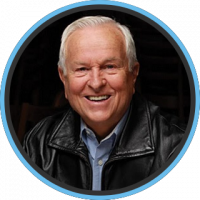 Josh McDowell - CRU / Josh McDowell Ministry
"When Christian college freshmen are alone, their faith rarely survives in today's college environment. The good news is that when they're connected in advance to campus ministries, churches, and Christian friends, they not only survive, but thrive and impact their classmates. Every Student Sent will help parents, churches, and ministries to turn the tide so this generation can now become the leaders of tomorrow."
Recent exhortation from Josh.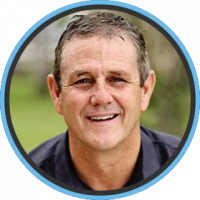 Mark Gauthier
- Exec Dir., CRU
"I want to encourage you as you think about your transition to a college campus to think about how you're going to develop spiritually. We want to encourage you to connect up with Every Student Sent. It's a resource to help you connect up with a vibrant Christian community. That will make all the difference in your life of what God has in store for you."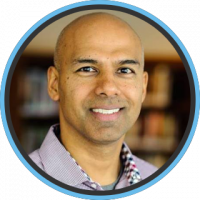 Jason Thomas
- Exec Vice President, Intervarsity
"Don't do the college experience alone. Plug into community. A great way to do that is to check out Every Student Sent for communities that already exist on your campus. Think about the university as a place God's calling you to serve and love the campus with a group of believers together. Every Student Sent is a great way to find out what God is doing there and inviting you into."
College Campuses & National Impact